Boys Gymnastics Class - Level 1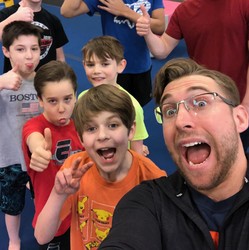 Empire's sixty minute Level 1 Boys Gymnastics Summer Class is offered Thursday evenings from 4:45-5:45 PM and is for boys ages 4 years old and up!
Your son will learn basic skills and progressions on floor, pommel horse, parallel bars, high bar, vault & rings. We will help him become more disciplined, focused, and improve his overall health.
Empire All Star Cheerleading & Gymnastics offers a safe place for kids to learn, have fun, meet new people, and develop their social skills. Our coaching staff will help each child become more disciplined, focused, and confident while improving their overall health. We believe that a child must truly enjoy what he or she is doing in order to learn successfully.
The first week of Level 1 Boys Gymnastics Summer Classes will be July 9, 2020. It will cost $20/class. Please send your child with payment in an envelope with your child's name on it. We will have them put their payment directly into a "money box" when they arrive at the gym. We are currently accepting cash, checks payable to Empire and credit cards. Please call Coach Chris directly to make payment over the phone if you need to use a credit card. Register today to secure your spot.
If you'd like to set up a day/time to come and check out the facility, meet the coaches, or would like more information about our summer hours please email Christopher Cote at [email protected].
Let EMPIRE help you achieve your goals! Register now and come join the FUN today!