Mommy and Me Gymnastics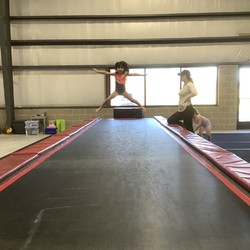 DUE TO COVID RESTRICTIONS, EMPIRE IS NOT CURRENTLY HOLDING THIS CLASS. PLEASE CHECK BACK IN THE WINTER.
Please use the following link to create an account, view and register for classes: iclasspro
Mommy and Me classes provide children ages 2 and 3 an opportunity to safely explore a fun filled environment, meanwhile introducing them to physical activity with the help of a parent. Children are able to learn gross and fine motor skills while being introduced to basic gymnastics skills. It also provides an opportunity to incorporate important social skills such as listening, taking turns and following directions. Contact us today for more information!