Tumbling Classes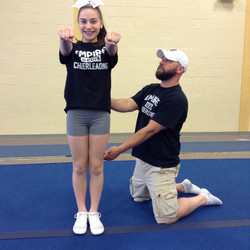 Please use the following link to create an account, view and register for classes: iclasspro
Do you need to work on your tumbling before tryouts? Competitions? Or just want to improve your tumbling skills for next season? Whether you are a cheerleader, gymnast, dancer, or just someone who loves tumbling, let Empire help you achieve your goals!
Empire All Star Cheerleading & Gymnastics is located at 205 Christian Lane, Berlin CT 06037 in a brand new 10,800 sq ft facility. Our tumbling classes meet on a weekly basis and are offered in month long sessions. Don't want to wait for the next session to begin? Contact us today to see if there are any spots available at a prorated cost!
Our weekly tumbling classes are for girls and boys, ages 5-18 year old who are looking to improve their basic tumbling skills. Once mastered, they are able to work on their intermediate tumbling skills such as walkovers and back handsprings with the help of panel mats, barrels, octagons, wedges, handspring trainers, a spring floor and a tumble track! Empire also offers advanced tumbling classes. The minimum requirement for this class is a back handspring.
Fall 2020:
Beginning Wednesday, September 9th, Empire will be offering weekly tumbling class on the following days/times
Our athlete to instructor tumbling class ratio is 5:1. Registration for these classes are now open so please feel free to sign up on iclasspro to secure your spot today! All necessary registration forms can be found under the "Tumbling" tab, under the section titled "Forms and Information."
The cost for tumbling is $95 / month. This includes a one hour tumbling lesson one day / week. Classes will officially begin on September 8th. We are currently accepting cash, checks payable to Empire and credit cards. Please use the iclasspro link to pay via credit card.
Payments are due at the start of each class/session. Once you register and make your payment, that spot in the class is yours until you decide to stop. If you would like to stop tumbling classes for any reason, please give us at least two weeks notice so that we can try to fill your spot in that class before the start of the next month.
If you'd like to set up a day/time to come and check out the facility, meet the coaches, and/or would like more information about any of our other programs please email us at [email protected].
Can't find the time to meet on a weekly basis? Check out our clinics page and see if that's the right fit for you!
Let Empire help you achieve your goals! Register now and come join the FUN today!