Tumbling - Friday 4:30-5:30pm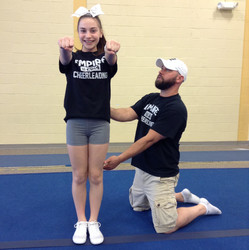 Empire All Star Cheerleading & Gymnastics is located at 205 Christian Lane, Berlin CT 06037 in a brand new 10,800 sq ft facility. Our tumbling classes meet on a weekly basis and are offered in month long sessions. Don't want to wait for the next session to begin? Contact us today and if that class has an open spot, you may join right away at a prorated cost!
Do you need to work on your tumbling before tryouts? Competitions? Or just want to improve your tumbling skills for next season? Whether you are a cheerleader, gymnast, dancer, or just someone who loves tumbling, let Empire help you achieve your goals!
Our Friday night 4:30-5:30pm tumbling class is for girls and boys ages 5-18 year old who are looking to improve their basic tumbling skills as well as their intermediate tumbling skills such as walkovers and back handsprings with the help of panel mats, barrels, octagons, wedges, handspring trainers, a spring floor and a tumble track!
Our tumbling class athlete to instructor ratio is 7:1. Registration for this class is now open so please feel free to contact us and find out how to secure your spot today!
Monthly tuition for one tumbling class per week is $90/month. If you would like to add an additional day of tumbling and attend two tumbling classes per week, you will receive a 10% discount off of both classes. So the monthly tuition for two tumbling classes per week would be $162 for that specific month.
You can pay by cash, check, or credit card. Tuition payments are due on either the first or second week of each month. Once you register and make your payment, that spot in class is yours until you decide to stop. If you would like to stop tumbling classes for any reason, please give us at least two weeks notice so that we can try to fill your spot in that class before the start of the next month.
If you'd like to set up a day/time to come and check out the facility, meet the coaches, and/or would like more information about any of our other programs please email us at
[email protected]
.
Let Empire help you achieve your goals! Register now and come join the FUN today!