Cheer - Junior Level 2.2 Prep Half Year Cheer Team (ages 5-14)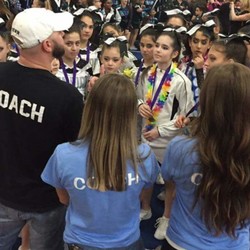 Thank you for showing interest in our competitive all-star cheerleading program. We are very excited to announce that we have just moved into our brand new 10,800 sq ft facility located on 205 Christian Lane, Berlin CT 06037.
Empire All Star Cheerleading & Gymnastics offers a competitive "Junior Level 2.2 Prep" half year cheerleading team that is available to boys and girls ages 5-14 years old with intermediate level tumbling and stunting skills. Age eligibility for this team would be based on your child's age as of 8/31/19. Must be able to perform skills such as a standing back handspring and/or round off back handspring (some exceptions may apply). Must also be comfortable performing prep level stunts.
Our "Junior Level 2.2 Prep" team will practice Tuesday & Thursday nights from 6-8pm with an optional team tumbling and conditioning practice on Saturday mornings / afternoons (Time TBD). Monthly fees average out to $260/month (over a 7 month period) with all expenses included. Fundraising options are also available throughout the season.
Registration is currently OPEN and will end Dec 1, 2019. Our Junior Level 2.2 Prep 2019-2020 competition season will go from Dec 2019-May 2020. They will compete at 3-4 local competitions with the chance to qualify for (and compete at) US Finals. Travel distance should not exceed 1 hour 45 minutes driving time per competition.
Parents Meeting - November 10, 2019 from 11:15am-12:15pm
Choreography Dates - Dates/Times TBD
If you would like to set up a day/time to come in and check out our facility, meet our coaches, and/or set up a private tryout please feel free to email Christopher Cote or Ashley Sabo at [email protected]
Let EMPIRE help you achieve your goals! Register now and come join the FUN today!